Post-COVID Growth: Do more with less – Automate digital marketing with a simple, low $ MarTech stack
As businesses are looking for ways to mitigate the impact of the pandemic, sales and marketing budgets have shrunk and the uncertainty around meeting 2020 growth targets remains high. Leaders at startups are under higher pressure than their larger counterparts to generate more leads with less budget because they don't have an established brand to fall back on.
Overcoming this challenge requires taking a novel approach to demand generation: We have tested and proven such an approach that can help your team do more with less. After you have read this post, you will have a reference blueprint to build a low-cost MarTech stack that gives you much of the power of a stack consisting of enterprise-grade apps like HubSpot, Marketo, and Salesforce … but literally at a fraction of the cost.
Digital selling is evolving:
COVID-19 has catalyzed many long due developments in B2B Marketing and Sales. In a time when customer preference for digital channels is only rising, the importance of digital marketing and selling has increased radically for B2B companies. Recently, HubSpot in its COVID-19 benchmark data report pointed out that digital marketing outreach, open rates, and database growth have increased since the start of the crisis. BCG is calling this the inflection point for digital sales and says that planning today to invest in the technologies and people needed to make that digital shift will pay off tomorrow.
If you are not already into digital marketing and selling or want to get better at it, our lean MarTech sample stack is a solid combination of affordable and easy to implement tools that can work seamlessly together at every stage of the B2B sales funnel. Here's an easy to implement digital demand generation tool kit and plan with answers questions like "Who to target?", "How to target", "How to implement your low cost MarTech stack?", and "How to track results?"
1) Who to target?
Fewer marketing dollars leave less room for error in the customer segments that you want to target. With AI-based tools like patternai.co, you can conduct precise segmentation for a fraction of the cost of a consulting engagement, and do so in real-time with automated updating of segmentation analyses. Better and rapid segmentation results in more targeted marketing which in turn leads to higher conversion rates and lower marketing costs.
2) How to target?
ENGAGING: Now that sales calls, demos, and even trade shows have become virtual and will stay that way for quite some time, virtual sales meeting solutions like goldcast.io can help you engage current and prospective customers live online while you capture leads, engage with prospects, and track event effectiveness, all in real-time.
CONNECTING: With our simple, lean MarTech stack we can connect with decision makers within your target businesses through omnichannel campaigns that combine LinkedIn ads and invites and email nurturing campaigns. Tools such as Dux-Soup and SalesHandy that have out-of-the-box integrations with a low cost CRM tool like Pipedrive are tailored to help small businesses find and connect with very precisely targeted audiences, as well as score and track the resulting leads.
ADVERTISING: You can develop very targeted lead generation campaigns using tools like LinkedIn advertising and marketing. By integrating first LinkedIn and then Google advertising campaigns, you can target and then retarget exactly the right decision-makers and influencers within a business. These platforms also provide trackability that makes it simple to measure ROI.
3) How to implement your low cost MarTech stack?
So far, we have laid out all the elements you could be using to enable digital selling and marketing and how tracking and analyzing your campaigns can optimize your pipeline. Since you might be interested in more specific information about these applications and how to make them work, we added some more details here:
Here is a graphic showing how to implement this methodology using our lean, low-cost sample MarTech stack (pricing out at about $400 per month):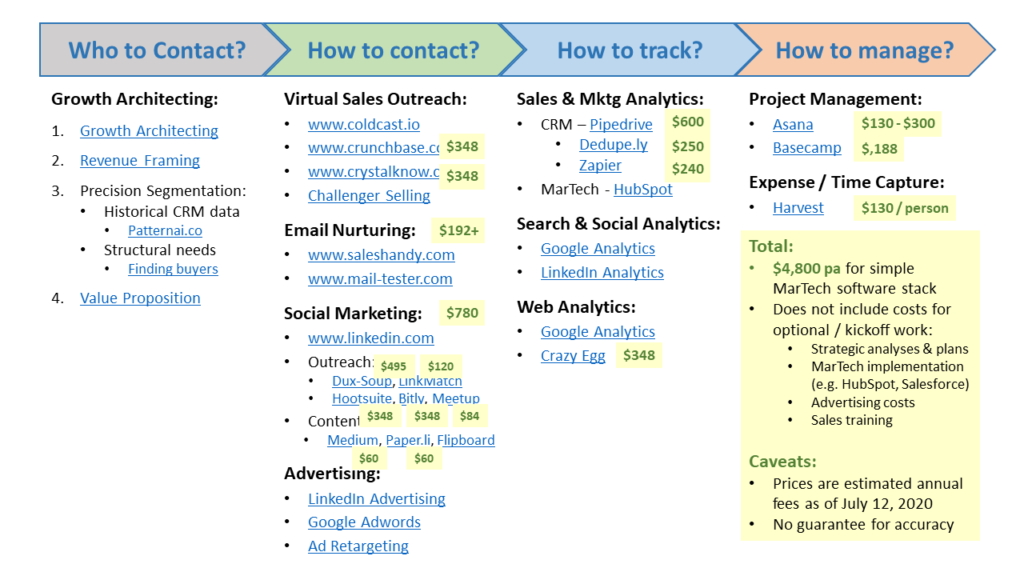 Figure 1 – Flowchart Outline of Low-cost Digital Marketing Stack
4) How to track?
Even the largest marketing budget will not yield optimum or any results unless you are tracking your progress and leveraging analytics: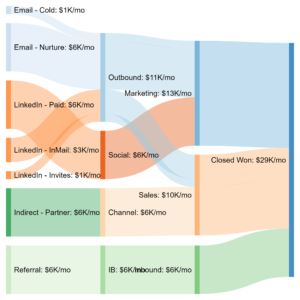 Quantitative Pipeline Modeling and Graphical Sankey Visualization: We have helped marketers across B2B startups analyze and optimize the return on their spend from all their lead generation sources. Our cohort models and Sankey diagrams (sample in Figure 2) help marketing teams identify the most effective demand generation sources so that they can optimize their spend while maximizing pipeline generation. The pipeline visualizations make it easy to see where marketing spend is warranted and where further optimization is needed. These visualizations are also great eye-candy in important meetings, e.g. with board or other exectives.
Tracking KPIs: Once your growth pipeline has been modeled quantitatively, these quantifications can be turned into early warning systems by extracting "leading indicators" like activity metrics or KPIs (emails sent, calls made, impressions generated, etc.) that are occurring at the top of the funnel (TOFU). The "lagging indicators" or outcome metrics (i.e. bookings, pipeline generated, or SQLs produced) occur at the bottom of the funnel (BOFU). The latter is what everyone wants, but the benefit of modeling lies in knowing whether the TOFU KPIs measured now are sufficient to generate the outcome BOFU metrics three, six, or nine months from now.
Figure 2 – Sample Sankey Pipeline Graphic
If you would like to know more about how to implement our sample, low-cost MarTech stack and build a well-oiled demand generation machine with parts that talk to each other, please reach out to us on LinkedIn, Twitter, at info@marqetu.com, or call (001) (650) 727-0983.