Fast, adaptive, and highly predictive revenue growth planning and optimization system for B2B CXOs.
WITHOUT a need for prior data or deep analytics.
Diagnose issues rapidly for a quicker, quantified turnaround plan
Launch optimized growth plan in 2 to 4 weeks
Gain a holistic, quantified view of your growth plan
Accelerate your strategy formulation by creating planning models in mere hours
Sync your team around your KPIs faster so you can spend less time planning
Eliminate over-forecasting and watch your forecast hit rate spike
Reduce reliance on slow and flawed historical analytics
Ensure predictability by bringing scientific rigor to your growth planning
Monitor all variables early to avoid end-of-quarter surprises
Capture lead sources, revenue, budget and more in one holistic forecasting model
Efficient Budgets and Optimized Valuations
Maximize revenue gains through smarter optimization of spend per lead source
Optimize valuation as you are allocating budgets
Leverage clear baseline growth model to precisely identify optimization needs
Align team around clear, shared goals
Maximize ROI with detailed view of the relationship of spend and revenue
Clear & Precise KPIs
Quantify goals and KPIs to easily stay on track
Gain clear line of sight between KPIs and revenue
Account for all KPIs from all lead sources in one holistic view
Leverage early warnings to know if you're tracking toward goal in less than a month
Faster Board & Executive Buy-in
Intuitive graphics and narratives make for convincing board and executive buy-in
Save time and political capital aligning executives and board to your growth strategy
Demonstrate how your growth plans not only optimize revenue but also your value
Be ready to present KPIs, verticals, value props, budget, and more in less than a month
Account for contingencies and boost confidence by showing clear optimization plan
Learn what your company can achieve with our software
"GOALS" Growth Planning Application
Automatically generate precise KPIs
Leverage best-practice go-to-market templates
Display plans with intuitive graphics such as Sankeys and funnel diagrams
Verticalized Messaging System
Rapidly segment audience into precise verticals and sub-verticals
Map each value prop to its relevant segment(s)
Compile segment- and channel-specific content in one central repository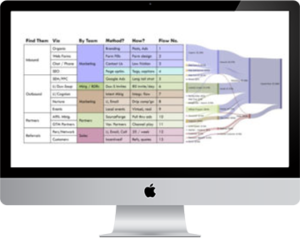 Budget and Valuation Optimization Tools
Allocate variable and fixed costs by lead source
Calculate incremental revenue from each lead source on a first-touch basis
Model the impact on your company valuation of different go-to-market strategies
Optimize resulting revenue and valuation by shifting budget to more efficient sources
Simulate scenarios to optimize growth / budget / valuation
// why choose us
The Premonio User Experience
Flexible
Customizable revenue growth model
Easy
Minimal training and onboarding required
Transparent
Simple and straightforward pricing with no hidden fees
Supportive
Customer success teams on hand 24/7
// case study
Success Stories
A Good Ending to a Hard Year
After COVID hit, even the best-laid revenue plans were out the window. Our customers worked with us to replan their pipeline and communicate to their boards convincingly what would still be feasible 2020 revenue goals.
Results:
They all had hit or beaten their forecasts by the end of 2020.
Boards were reassured and no one lost their job.
One company was acquired in Q1 2021, owing largely to the predictability of their 2020 results.
// Get In Touch
Get in touch today and start your journey to faster, more reliable revenue growth.